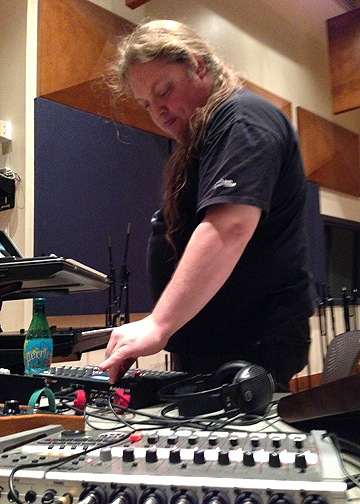 Music with Space radio show host and multi-instrumentalist Mike Hunter uses the name Ombient to make live music befitting of any situation. During his many concert outings he has realized a range of performances - from those of great portent down to the more ethereal and diffuse.

Possessed by a unique atmospheric sensitivity he is currently exploring the sonic territory of Spacemusic's 1970s Berlin-School - utilizing a number of classic electronic instruments, among them a substantial three cabinet "Synthesizers Dot Com" modular system.

In Winter 2015 Ombient will be joined on-stage at various venues by fellow Electronic Musician Chuck van Zyl. These concerts will mark the release of the new Ombient soloo studio CD Sectio Aurea (Synkronos Music).

In a vocabulary of repeating patterns the duo navigates their own tributary of the Berlin-School. Dancing arpeggio notes, resonant analogue tones and interlocking percussion accents surge out of breathing synthesizer swells - while soft percussive chiffs and royal electronic bleeps echo out across vividly imagined distances. As deeply breathing chords stack up and sustain, machine-like synchronized sequencer runs gain momentum - cycling in lock step against a trail of echoes and dreamy tonal interplay.

Hunter's analog style step sequencer, and its seemingly endless facility for composition, repetition and variation, drives this music's motoric tick-tock timing. Amidst this kinetic kaleidoscope of live concert rhythm, van Zyl releases a ribbon of heroic synth leads, as well as soft Mellotron flutes, strings and choirs. The beauty of this work comes from its many strands, heard individually and comprehended collectively.